Products & Services
Fabrication
While our main concentration is fabricating and install miscellaneous metals, ornamental metal and structural steel within the commercial construction industry, we have begun to expand our fabricating operations to include custom products. In acquiring the facility in Fall River, our fabrication capacity has grown tremendously. Our shop floor area has increased in square feet which allows us to be able to handle larger more complicated projects. Our facility also allows us to store large amounts of product on the 70,000 square feet yard.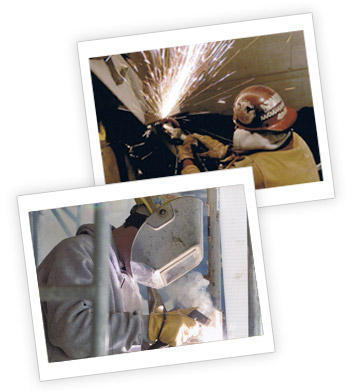 In addition to our own contractual work with Construction Managers, we perform fabrication services for a number of steel companies who require a reliable, quality product with a quick turnaround and at reasonable prices. At the moment we are utilizing approximately 70% of our production floor space with ample room for expansion to facilitate our growth. Within our fabrication facility we operate the following equipment which allows us to diversify the products we supply:
150 Ton Break
100 Ton Break
10 Foot Wide Shear
10 Ton Iron Worker
50 Ton Iron Worker
8 Foot Plate Roller
Pipe Benders
Plasma Cutters
Tig Welders
Portable Whitney punches
In addition to maximizing our production floor area we are researching the feasibility of acquiring a drill line to improve productivity and reduce costs within our fabrication process. We are also reviewing the possibility of segregating a portion for stainless steel and aluminum fabrication, which will further expand our versatility in the steel fabrication market.